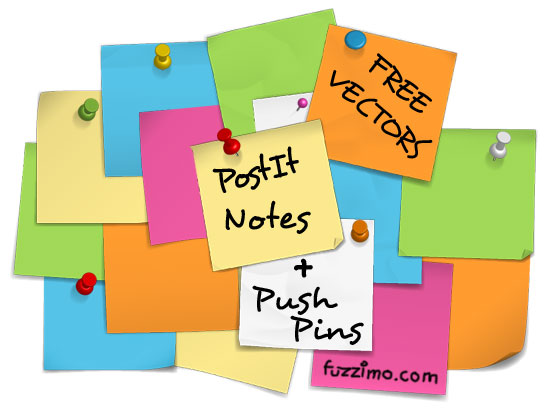 Adhesive Notes and pushpins are pretty popular in web design and so to make my life easier – and hopefully yours too :) – I made a pack of vector post-it notes and drawing-pins. There are 9 unique post-it notes, out of which I made 6 color combinations (yellow, blue, green, white, pink and orange) for a total of 54 colorful sticky notes plus shadows; and if you need a worn out look some of the paper notes are wrinkled as well. About the vector Push Pins – there are 3 kinds (tall, flat and round) in 7 color variations (red, green, yellow, white, blue, pink and orange) and from different angles; over 100 vector thumbtacks in total.
At the bottom there are two format versions for downloading, one contains ai + png files and the other eps + png. They are the same but I kept them in separate files as the eps files are larger and if you only need the ai there's no point in downloading the whole thing. In the zip files I also added a png file that has both the pushpins and sticky notes together for a quick copy and paste in a project. By the way if you need a corkboard texture to go along with these files check out my previous post here. Check the screens below and if you like this post don't forget to post a note or share it. Thanks!
New – I added an extra link for high resolution png transparencies to to the download section.